Quick instructions
6. Quick guide for teachers
6.13. Publish / hide course
By default, course is visible only to the teachers specified in the course's enrolled users list. Students can't access the course until you publish the course.
Publish course from Managing tools: Show course.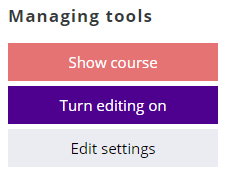 When the course is published (visible to students) the button is green.
You can hide the course from the Managing tools: Hide course.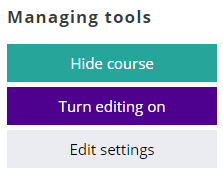 It's important to hide the course after course has ended and students no longer need to access the course materials. By hiding the course old courses will not clutter students course lists. Hidden course and all student materials are still visible for all teachers on the course.