Back to course
Quick instructions
6. Quick guide for teachers
6.11. Set enrolment key
Course enrolment key is not needed if TUNI Moodle course has been created in Sisu (Tampere University) or Peppi (TAMK) and students are enrolled to the implementation in Sisu or Peppi.
If TUNI Moodle course has been created manually to "Other" category:
Set enrolment key and share the key and course URL to students (read more below)
Set enrolment key
On the Participants tab, select Enrolment methods.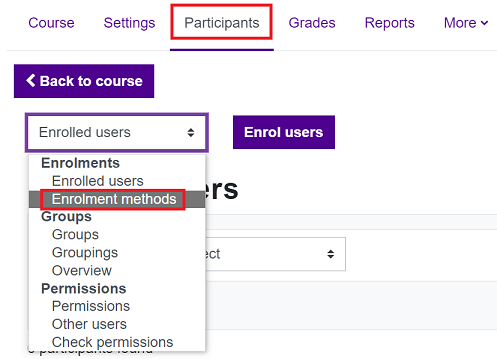 Go to the self-registration settings from the edit button.

Allow new enrolments, set the enrolment key and save. Students must use the key you set here when registering in the area. The key can be e.g. one single word, it does not have to contain special characters or numbers.

If you use the Managing tools block, you can also set the enrolment key from there. Setting the enrolment key from the Managing tools block also activates self-registration.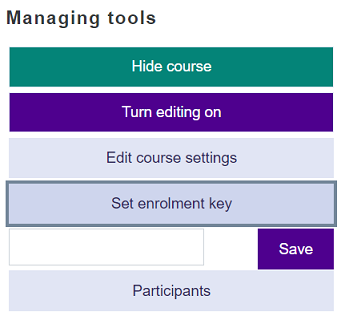 After you have set the enrolment key, you can check what the key is by clicking: Managing tools > Check enrolment key
Then you can publish the course area (show course) and share the enrolment key and URL to the course area, so students can enrol in course.
Delete enrolment key
Managing tools > Check enrolment key

Set empty enrolment key. If enrolment key is empty, users can't enrol in course area by themselves. If you want allow all TUNI Moodle users to enrol your course area without enrolment key, check instructions

"Allow enrolment without key".