Back to course
Quick instructions
6. Quick guide for teachers
6.8. Add / remove participants
Students enrolled to Sisu (TAU) or Peppi (TAMK) implementation will be automatically added to TUNI Moodle course if the TUNI Moodle course has been created in Sisu (TAU) or Peppi (TAMK).
In other cases, it is recommended to primarily invite students to the course using the enrolment key or by allowing enrolment without the key. If you enrol students manually to the course they can't unenrol from the course.

Add participants

 On the Participants tab, you can add users to the course in different roles, remove them from the course, and view and edit their roles.

Only a user who is already logged in to TUNI Moodle can be added to the course. If you are adding a participant to the course that Moodle cannot find, first ask him/her to log in to TUNI Moodle once.

There is an "Enrol users" button at the top and bottom right of the page.

Enter the name of the teacher or student you want to add in the field and click the name that appears.
Select the role to which you want to add the user to your course: Teacher, Non-editing teacher, or Student.
Click the "Enrol users" button.
Change the roles of participants
To change the role of a user on the course, search for the name in the participants list and click the pen icon next to the current role.

You can select another role for the user from the drop-down menu. Finally, click the save icon next to the field.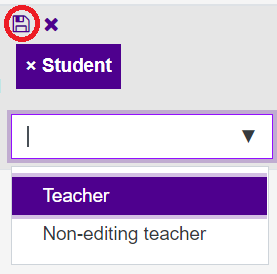 Remove participants from the course
If necessary, you can completely remove a user from the course by clicking the trash can icon in the last column.

NOTE. This way, you can only remove a user whom you have added to the course manually or who has enrolled to the course with a key. Removing a student who has enrolled to the implentation in Sisu manually from the course does not permanently remove him/her from the course. Enrolment must always be cancelled in Sisu, after which the student will only be permanently removed from the course.