(In English below)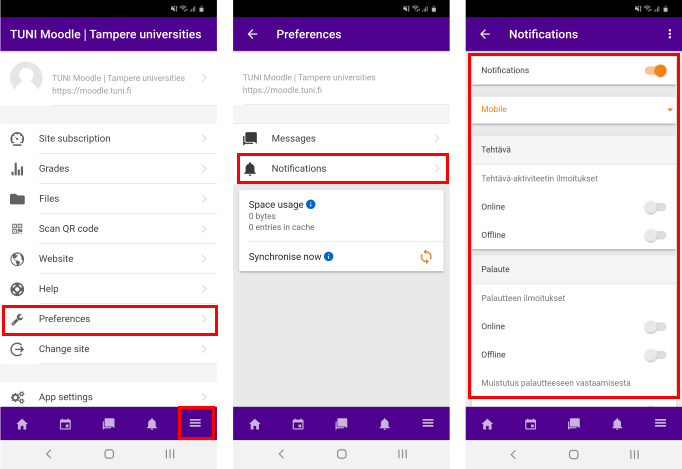 Lataa Moodlen mobiilisovellus ja pysy ajan tasalla kurssisi tapahtumista
Tiesitkö, että Moodleen on saatavilla ilmaiseksi mobiilisovellus, jonka avulla voit tilata ilmoitukset tärkeistä tehtävien päivämääristä ja muusta kurssialueesi toiminnasta.
Lataa mobiilisovellus:
Aloita käyttö:
Käynnistä mobiisovellus ja lisää uudeksi sivustoksi: moodle.tuni.fi
Nettiselaimeen avautuu kirjautuminen TUNI Moodleen ja kirjautumisen jälkeen Moodlen mobiilisovellus käynnistyy automaattisesti.
Oletuksena kurssialueiden aktiviteettikohtaiset ilmoitukset ovat sovelluksessa poissa käytöstä. Voit muokata ilmoituksien asetuksia Moodlen käyttäjäprofiilin asetuksistasi. 
Katso tarkemmat ohjeet ilmoituksien asetusten muokkaamiseen tästä. 
---
Download Moodle mobile app and keep up to date with notifications
Did you know that Moodle mobile app is free and with the app you can receive notifications from your Moodle course deadlines and other important events.
Download mobile app:
Getting started:
Start the mobile app and add a new site: moodle.tuni.fi
Login page to TUNI Moodle opens in web browser and after login the app starts automatically.
By default, notifications from course activities are disabled in the mobile app. You can modify notification preferences from your Moodle profile preferences.